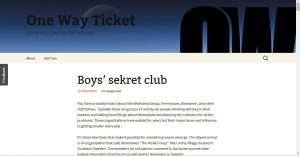 One Way Ticket, or OWT is a project that started as as study of using a blog as a media for fictional work. Over the time the project transformed from blog posts into a collection of loosely connected irrational pieces of poetry to the point where in the end the author of the texts becomes unclear.
The transformation can be seen as a development of a condition, as well as a critic to the nature of Internet where amount of content is increasing and simultaneously the relation between elements becomes invisible.
Some content of the OWT-blog was later used in the book "Aphorisms from the edge of the walk-in closet".
---
Digital Internet Media
2011-2015